If you want the Amazon & the incredible Inca sites of Cuzco & Machu Picchu we have combined this for a great trip that will give you the best of both. From the archaeological ruins of Cuzco including Sacsayhauman, Kenko, Pucapucara & Tambo Machay to the fabled Machu Picchu site hidden deep in the Andean mountains. As for the Amazon, we offer you the accessibility of viewing a variety of wildlife that exists in this region. The species included parrots, monkeys, cayman, giant river otter, as well as several different types of birds and fauna that are known for this region. You will also have the opportunity of learning about the variety of plants that not only the locals use on a day to day basis but people all over the world use on a daily basis.
---
Day 1 - Depart to Peru arrive Lima
Depart from the home city to Lima where you will be met and transferred to the hotel located in Lima. Overnight at the hotel.
Day 2 - Lima - Cuzco - City Tour & Sacsayhauman Park - Cuzco
You will be met and transferred to the Lima airport for the local airline flight to Cuzco. On your arrival our staff will meet and transfer you to the hotel where you can use the remainder of the morning to acclimate to the 11,300 ft. altitude in the Inca capital of Cuzco. In the afternoon (1:45 p.m.), our staff will meet and transfer you by group tour bus and guide for a City tour of Cuzco and the Colonial and Inca sites of La Cathedral and Santo Domingo Convent, or Q�oricancha, Tambo Machay, Kenko, Pucapucara, and Sacsayhauman. Early evening return to Cuzco and the hotel. (5:45 -6:15 p.m.) Over night at the hotel. (CB or BB)
Day 3 - Cuzco - Pisac Market - Ollantaytambo
Our staff will meet and transfer you in the morning ( 8:45 -9:00 a.m.) into the Sacred Valley of the Inca. This fertile region includes many Inca terraces and farm land. Travel to the town of Pisac and the Ancient Pisac Market for the annual show where many of the local Indians sell and barter their hand made textiles, fresh fruits, and vegetables. After an hour or so of mingling with the locals, you will proceed to eat lunch at a local hacienda restaurant in the Sacred Valley. Afterwards, continue to Ollantaytambo which is the oldest continuously habituated town of the Inca that contains several important Inca structures. At the top of the sixteen massive terraces are the ever impressive ruins of Ollantaytambo Fortress. This is where the Inca fought some of their fiercest and strongest battles. It is unknown how the huge precisely carved stones were transported down one mountain range to the Ollantaytambo location, or how they were fitted perfectly to support a strategic fortress that has bared the test of time. Also found here are �silos� or grain mills that are directly adjacent to the fortress that could have maintained thousands of pounds of grain for the Inca and its people. Some of the grain was most likely produced in the surrounding agricultural terracing by the variety of crops that were grown. Afterwards, remain in the Sacred Valley. (3:45 p.m) Overnight at the hotel. (CB or BB / L)
Day 4 - Ollantaytambo - Aguas Calientes / Machu Picchu
Morning on your own in Ollantaytambo to explore the area. Afterwards you will be assisted to the Ollanta train station for the First Class train departing mid - afternoon to Machu Picchu. Here you will continue into the Andean Mountains winding and passing through several small villages where the local Indian farmers manage their farms and reside just as they have for hundreds of years. After a short but scenic ride (1� hours) you arrive into the final stop at Aguas Calientes. Here the temperatures will have changed to that of tropical and a abundance of plants typical for this region of the Amazon basin can be appreciated. Here you will be met by the hotel staff and transferred to the preferred hotel. Remainder of the evening on your own. Evening your guide will meet with you for the orientation regarding the following morning trip into Machu Picchu. Overnight at the preferred hotel. (CB or BB/L)
(NOTE: Sanctuary Lodge includes: BB/L/D, Pueblo Hotel includes: BB/D)
(*NOTE: Entry of Machu Picchu is limited to 4 hours. Entries start at 6:00 A.M. / last entry is 2:00 P.M. All 4 hour time slots are limited to available spaces at time of purchase.
Based on train times and availabilities service maybe by tour bus from Cuzco to Ollantaytambo and train to Machu Picchu. The return from Machu Picchu could be train to Ollantaytambo then by tour bus to Cuzco. )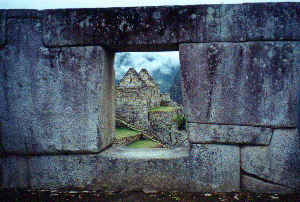 Day 5 - Aguas Calientes - PRIVATE TOUR Machu Picchu - Cuzco
Early morning you will meet your private guide and board the tourist bus and proceed up an incredible winding road that leads to the fabled site for early morning tour of Machu Picchu. On your arrival your guide will explain the history and the myths that surround this archaeological wonder. Several ideas or possibilities have been noted of this massive archaeological complex of acropolis proportion. Whether this site was pre Incan, a previous leaders sanctuary for his retirement, or maybe a location for the virgins to be separated from the kingdom and used as wives for the Inca rulers or even sacrificial for the gods. It seems that the world will never know. After your tour (2 hours) time will permit to hike to the Inti Punku Pass (Gate of the Sun) or explore and take more photographs of the area. Remainder of the day on your own. Late afternoon bid farewell to the lost city of Machu Picchu and proceed to the Aguas Calientes where you will re-claim your baggage at the hotel before departing on the train to Cuzco. Afterwards transfer to the train station where you will board the First Class train for your return to Ollantaytambo and then to Cuzco and the hotel. Overnight at the preferred hotel.(CB or BB)